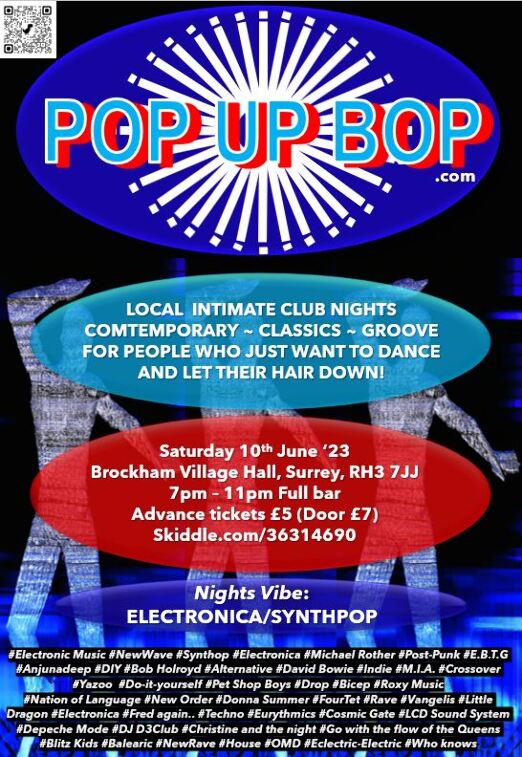 Pop Up Bop '23 No.1
Saturday 10th June 7pm to 11pm @ Brockham Village Hall RH3 7JJ
This Club Night's Vibe: Electronica/Synthpop/New Wave
As the sun sets on another month, and the hustle and bustle of everyday life begins to fade, wouldn't you like to find locally an intimate space, filled with good music and a friendly crowd, who just want to Dance.
Where parents can let their hair down and still get back at a decent hour. It's for those whose appetite is undiminished for new music, a place to throw some shapes without embarrassment from teenagers.
For many, the prospect of a heaving nightclub, overpriced drinks, and an expensive taxi home is no longer an option.
A Club atmosphere that stays clear of cheesy music, banging hardcore and 'decade' theme nights, preferring to play brand new, contemporary and classics mix of dance-focused tunes. We start at 7pm and finish as per normal pub hours.
A good sound & ambiance with guest DJ's is promised, capacity is however limited, so tickets best booked online in advance.
Pop Up Bop '23 No.1 is with an Electronica/Synthpop/New Wave Vibe in the beautiful Village Hall of Brockham Surrey, with bar in the main room and the Taphouse bar for a quieter spot to catch your breath, before you return to the Bop. Tickets for this one, as it's a promo is £5, normally £10... and no £1 fee charge from Skiddle.
https://skiddle.com/e/36314690
Pop Up Bop - Intimate friendly halls playing contemporary & classics mix of groove-focused tunes. For those who just want to dance, let their hair down and still get back at a decent hour.
Pop Up Bop -Appearing in Village/Sports halls, each club night has a defined vibe, dependent on DJ, Season, Audience etc.
Pop Up Bop -Web: http://popupbop.com Facebook: https://www.facebook.com/popup.bop email: info@popupbop.com